Waxing Moon Humidors CFW Benefit Giveaway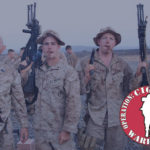 Waxing Moon Humidors is a company that makes gorgeous, hand-made, one-of-a-kind humidors. You can't find a better place for your cigars to rest than a humidor designed by these fine craftsmen. In addition to making an incredibly high quality product, they are also wonderful supporters of Operation: Cigars for Warriors! Currently, they are giving away one of their outstanding humidors to one lucky person who donates to Operation: Cigars for Warriors.
Waxing Moon started their raffle with the goal of contributing to our organization's shipping costs that we need to distribute all the generous cigar donations we receive. It couldn't be easier to get yourself a chance to win – just visit the CFW page on Waxing Moon's site and follow the simple instructions. You'll also find all the details on the beautiful humidor that one donor will receive!
Posted by Travis Lord on Thursday, December 17th, 2015 @ 7:41PM
Categories: News
Tags: donation, humidors, shipping, waxing moon