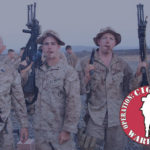 Two Guys Smoke Shop is a chain of stores in New Hampshire with locations in Nashua, Seabrook, and Salem. Widely recognized as one of the best and most iconic shops in New England, during the month of November, the company hosted an Operation: Cigars for Warriors cigar donation drive. They urged their customers to make contributions, and in order to help stimulate full-box donations, the company generously offered to match anyone who donated a full box by donating a full box straight from the companies inventory.
The drive was an unbelievable success, with the final tally coming in at just over 21,000 cigars donated, including 445 full boxes. There sure are some generous folks in NH who love supporting their troops! Two Guys owner Dave Garofalo spoke eloquently during a recent podcast about how much he enjoyed supporting this cause and how much he appreciated his loyal customers making such a large contribution.
Cigars for Warriors would like to thank Two Guys Smoke Shop and all the wonderful people who contributed to this cigar drive. The timing of the donations was perfect as during the holiday season requests for cigars increase, and we try to be even more generous than usual with our contributions to the troops who have to spend this season away from their home and families.