October 10th marked the second annual Drew Estate and CFW event at Fogue & Bates in Tulsa, Oklahoma. This year's event was bigger and crazier! Dirty Fabien and Jonathan Drew along with Sam Morales were slinging crazy deals all night! Patrick Carr from Cigar Rights of America signing up folks to join the fight for our Freedom to enjoy these wonderful events, good times, and premium cigars! With over 40 CATS cigar group members also in attendance. This made for one unforgettable night in T-town!
James George, Owner of Fogue & Bates boasts one of the finest selections of the cigars in the Midwest! He has been a big supporter of CFW for almost two years now! Whether it be doing joint cigar events or donating prizes to our Big Money Raffles James is always willing to help. This event was also a First for one of Cigar for Warriors newest Event Coordinators Zach Rupe.  Zach is going to be a great addition to the CFW family and a huge help to myself as well!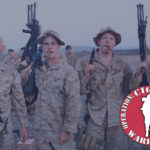 The response to CFW in Tulsa has been amazing and this night was no exception! I've always said that the cigar community is by far some of most giving folks around! We took in well over a hundred cigars and roughly around the same in cash donations. To me there is nothing better than seeing so many people that want to help make a warriors day a little better with something as simple as a cigar! A huge thanks to all who donated and made this event a huge success!!!
Article by
Micah J Taylor
CFW event coordinator Tulsa, OK