The wonderful Vaughn Boyd and her outstanding Deadwood Tobacco Company are stepping up big again with an amazing prize raffled off to support our cause! This time around they are giving away a custom plated and engraved Stoeger 12-gauge, double-barreled shotgun to one lucky winner. It's a wonderful opportunity to support CFW and to get a chance to win this amazing prize that will help you feel like John Wayne and protect your home and family at the same time.
Please visit Deadwood Tobacco Company's website to buy your raffle tickets, just scroll down the main homepage a little and you'll be able to pick yours up right there. Tickets are $10 each, and there are only 599 total tickets available so get yours now and don't miss out! The drawing will be held on March 19, 2016 at Deadwood Tobacco Company, but you do not need to be present to win so you can enter no matter where you live.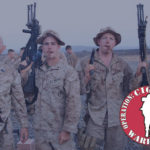 Please note, you must be at least 18 years of age to purchase a raffle ticket and to win the prize. In order to collect your prize you must be able to pass a federal background check. If the winner lives outside of the state of South Dakota, their prize will be shipped to them via a registered firearm dealer in their state of residence.